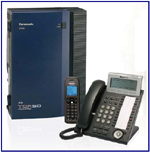 The Panasonic TDA50G is a feature rich VoIP Phone system for small business with the need of expansion to either up to 12 lines in X 20 phones or 8 lines in X 24 Phones. The KX-TDA50 can expand up to 4 VoIP phones.
The Panasonic KX-TDE is available in 3 configurations. The KX-TDE100 for mid size business with the need of more then 20 phones, TDE 200 that can support up to 200 phones or more, and the TDE600 can support in upwards of a thousand phones
The Panasonic Cordless Cell System consists of cordless phones and what are know as cell stations that are sold separately. The TDA and TDE systems have the capability of using multiple cell stations to be mounted around a large facility or home and when a cordless phone looses it's signal from one cell station it finds and connects to the nearest or next cell station expanding the roaming capabilities of the cordless phones.
Panasonic VoIP
The KX-TDA and TDE systems both support what is known as SIP trunks, SIP phones, a SIP softphone, proprietary IP phones and a proprietary softphone. Of course you can use Vonage type lines with the Panasonic also.
The proprietary IP phones will provide the ease of use as they are configured to be compatible with the system the same as the proprietary digital phones.
Many Panasonic IP Phones to choose from. We have a NT321 that is an 8-button phone with a display and 3) different 24-button phones with a small an large backlit display compatible with the TDA and TDE system.